Wonder Dry (Baby Underlay)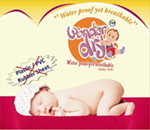 Wonder Dry is one of the latest and so far the best product available (in terms of combining the unique characteristics of " Water proof yet breathable" to its optimum level) for "Baby-underlay and BED protector product category.
Wonder Dry out plays, it's other substitutes like Rubber/Plastic/PVC/Leather sheets, in terms of Baby's-skin friendliness, comfort level and cozy feel to babies.
Wonder Dry is a bi-layer product (Laminated Textile) with upper-layer made out of soft and cozy fleece fabric which is treated for exceptional absorbency towards water and other body fluids/liquids. The texture of the fabric is so selected that optimum warmth and comfort level is given to baby-sleeping on it.
The layer beneath is of water-proof yet breathable Membrane this membrane is very soft and thin as well as absolutely safe for tender skin of babies.
These 2 layers are bonded with latest generation textile adhesives which passes oekotex-standard and gives very strong bonding without sacrificing the feel and drape of composites.
HOW IT WORKS
Wonder Dry has highly absorbent surface of fabric, which absorbs the water/liquid into it, however the membrane laminated beneath does not allow water to pass through it. But as this membrane is Hydrophilic, it adsorbs water from fabric and swells inside its structure. Eventually due to humidity gradient adsorbed moisture is vaporized into the ambient climate.
Features


It is soft
Breathable
Dries quickly
Water proof
Machine Washable
Absorbs liquid very fast
Good drape
Sterilizable
Free from drawbacks of plastic like undesirable feel, bad noise, cracking after some usage, static, non absorbing etc.